An effect of aging in men is that it may take longer to achieve an erection, even though it is usually possible. The erection may be less intense. This can be used to extend the time of foreplay. It becomes more important to try to separate out the difference between physical limits on sex such as those resulting from medical problems and changes in appearance. Then you can learn to ignore the physical problems in sex brought on by aging. This can increase the pleasure of sexual activity without limits by aging.
Because of the drop in sensitivity of the skin of the penis, men may need longer and more direct stimulation to achieve an erection than in earlier years. Visual stimulation may be less effective and psychologic thought processes that formerly aroused and caused an erection may be slower or less effective.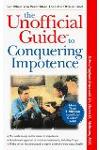 More About this Book
Unofficial Guide to Impotence
The Unofficial Guide to Conquering Impotence delivers the inside scoop on impotence: the truth about Viagra, what treatments really work, and how lifestyle changes can aid in conquering...
Continue Learning about Healthy Aging For Men