Whole grains are better than their processed counterparts because whole grains contain all 3 parts of the grain. Processed grains only have one part of the grain. Processed grains lose nutrients during processing. Part of the nutrients is added back, however, the nutrition quality is not the same as the original "whole grain." Whole grains have fiber which processed grains do not contain. Whole grains also keep you "feeling full" longer which will help you lose weight.
There are multiple health, wellness and weight related reasons to choose whole grains over processed foods.

Simply put -- whole grains provide nutrition that processed foods (even nutrient enriched foods) do not contain. Your body requires numerous nutrients on a daily basis and eating a diet rich in whole grains makes acquiring these nutrients a much easier task.

Whole grains are higher in fiber and are more complex than their processed counterparts. Complex means that it will take your body more energy to break these foods down into their simplest and most usable forms (referred to as Thermic Effect of Food (T.E.F.).

The increased fiber intake promotes wellness and intestinal regularity as well as increasing satiety, which is the full feeling following eating.

In short, whole grains boost health and wellness and may aid you in maintaining a healthy weight.
It is very important to choose whole grain products, such as whole grain breads, whole grain flour products, and brown rice, over their processed counterparts, including white bread, white flour products, and white rice. Whole grains provide substantially more nutrients and health-promoting properties. They are a major source of complex carbohydrates, dietary fiber, magnesium and other minerals, and B vitamins. The protein content and quality of whole grains is also greater than that of refined grains. Diets rich in whole grains have been shown to be helpful in both the prevention and treatment of diabetes, heart disease, and cancer.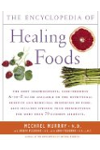 More About this Book
Encyclopedia of Healing Foods
From the bestselling authors of The Encyclopedia of Natural Medicine, the most comprehensive and practical guide available to the nutritional benefits and medicinal properties of virtually everything...
Continue Learning about Health Value Of Foods