Food's for nourishment -- not emotional comfort or a substitute for physical or mental stimulation. Fill your diet with good, healthy nutrients:
Protein
Have nuts each day, including healthy almonds, walnuts, and nut butters
Whole grains
Choose cereals rich in healthy oats
Select whole grain instead of white breads
Fruits
Have fruits at each meal
Keep a bowl of washed fruit in the refrigerator and on the counter to help you choose a whole fruit as a snack. Remember -- an apple a day IS a healthy way to consume healthy nutrients.
Include healthy citrus fruits (including tomatoes), blueberries, and cranberries in your diet
Vegetables
Have vegetables at most meals
Keep washed and cut vegetables in the refrigerator for quick, healthy snacks (celery and carrot sticks, radishes, cucumber slices, etc.)
Eat fresh salads with dark, green, leafy vegetables
Add onions and garlic to your recipes
Keep yourself hydrated by drinking at least 8-10 cups of water each day, with more added when you exercise. Make sure you drink before and after each exercise session. Keep water available for you during exercise.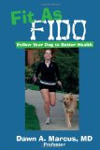 More About this Book
Fit As Fido: Follow Your Dog to Better Health
Let your dog teach you to live a happier, healthier, and more fulfilling life! Companionship with your pet can be used as a means and a motivator to increase your own physical and mental fitness....
To lower your cholesterol, manage blood sugar, control blood pressure and have a healthier future, follow these six building blocks:
Eat lots of fruit and vegetables. Along with crunch and flavor, they give you healthy fiber and nutrients.
Eat more whole grains. Whole wheat, oatmeal and brown rice are just a few examples of these tasty foods that give you fiber and complex carbohydrates.
Choose unsaturated fats and oils. Unsaturated fat is liquid at room temperature, and comes mostly from plant sources. Examples include olive and canola oils, nuts, olives, avocados and salmon.
Choose healthy proteins. Some sources of protein -- fish, beans, soy and nuts -- can protect your heart and blood vessels over time.
Select low-fat dairy products. Stick with milk that's 1% or less fat, and enjoy low-fat or fat-free yogurt and cottage cheese.
Limit sodium (salt) and sugar. Cutting back on salt is an important way to lower your blood pressure and protect your arteries. And for weight and long-lasting energy, keep sugar and sweets to a minimum.
Staying heathy is not only about eating healthy but also exercising the body and the mind. However, eating healthy is essential in maintaining all of the functions of the body. Eating healthy is very easy and varies from person to person. Some people choose to be vegans, vegatarians, or pescatarians. Others chose to be gluten free, dairy free or hormone free. So eating healthy is very much so individualistic and personal. However, I recommend eating plenty of leafy greens, drinking lots of water, eating protein, eating lots of fresh fruits and staying away from fried or salty foods.
Continue Learning about Health Value Of Foods