What is the nutritional value of sesame seeds?
The sesame seed, one of the smallest seeds, is densely packed with nutrients. The seed is a fantastic source of protein (especially rich in methionine and tryptophan), lignans, fiber, monounsaturated fats, vitamins B1 and B2, minerals such as copper, magnesium, iron, zinc, and calcium, and phytic acid. Sesame seeds are low in carbohydrates and cholesterol-free. One third cup of shelled sesame seeds yields 280 calories, 8 grams of protein, 23 grams of fat, and 6 grams of carbohydrate.

The fat in sesame seeds is 38 percent monounsaturated and 44 percent polyunsaturated, which equals 82 percent unsaturated fatty acids. The average oil content of the seed is 50 percent. The amino acid profile rivals those of many other vegetarian protein sources, such as soybeans, peanuts, and other legumes.

Natural unhulled sesame seeds are high in calcium. One tablespoon provides 87.8 milligrams, while the hulled type provides only 10.5 milligrams per tablespoon. Some surprising numbers are revealed when comparing the amount of calcium in sesame seeds to that in milk. One cup of natural sesame seeds has 1404.0 milligrams of calcium, while one cup of nonfat milk provides 316.3 milligrams and one cup of whole milk has only 291 milligrams of calcium. However, the 2 to 3 percent oxalic acid in unhulled sesame seeds can interfere with calcium utilization.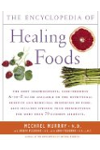 More About this Book
Encyclopedia of Healing Foods
From the bestselling authors of The Encyclopedia of Natural Medicine, the most comprehensive and practical guide available to the nutritional benefits and medicinal properties of virtually everything...
Continue Learning about Health Value Of Foods
A healthy diet is rich in foods with high nutritional value, providing your body with the vitamins, minerals and other food nutrients it needs to protect against disease and maintain a healthy weight. To identify healthy foods, it...
's important to read nutrition labels and know the source of your food. Products advertised as whole-grain, organic or fortified may not necessarily be healthy for you. Find out how to get the most health value from various fruits, nuts, spices, oils and vegetables -- and learn which types of red meat and processed foods to avoid -- with expert advice from Sharecare.
More