Watermelons are wonderful, and you can make them even better with how you store them.

Store them at room temperature, and their beta carotene and lycopene levels go up, by 139% and 40% respectively: the melon continues to make these anti-inflammatory antioxidants even off the vine.

Store them in the fridge, and the levels go down: that's the orangey-pinkness and pitting you see.

This is culinary medicine: the art of food blended with the science of medicine.
The watermelon (Citrullus lanatus) ranges in size from a few pounds to upward of 90 pounds. It is a member of the Cucurbitaceae family, along with cantaloupe, squash, pumpkin, and other plants that grow on vines on the ground. The watermelon most commonly consumed in the U.S. is round, oblong, or spherical in shape and light to dark green in color, with white stripes or mottling. Its flesh is bright red, and it has dark brown or black seeds. The flesh may also be pink, orange, yellow, or white; the seeds can be brown, white, green, or yellow; and a few varieties are actually seedless.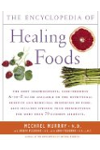 More About this Book
Encyclopedia of Healing Foods
From the bestselling authors of The Encyclopedia of Natural Medicine, the most comprehensive and practical guide available to the nutritional benefits and medicinal properties of virtually everything...
Continue Learning about Health Value Of Foods