Walnuts are extremely nutrient-dense. They are a wonderful source of antioxidants, vitamin E, minerals such as manganese, copper, phosphorous, and magnesium, and monounsaturated fats. The walnut is one of the few nuts that contain omega-3 fatty acids and alpha-linolenic acid. In fact, walnuts are the main "nonfish" source of alpha-linolenic acid.

Walnuts are also a rich source of protein and dietary fiber and have no dietary cholesterol. A 1/3-cup serving of shelled walnuts contains 210 calories, 20 grams of fat, 5 grams of protein, and 6 grams of carbohydrate.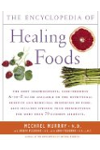 More About this Book
Encyclopedia of Healing Foods
From the bestselling authors of The Encyclopedia of Natural Medicine, the most comprehensive and practical guide available to the nutritional benefits and medicinal properties of virtually everything...
Walnuts contain the omega 3 fatty acid, Alpha Linolenic Acid (ALA) and are high in antioxidants. A one ounce serving (1/4 cup shelled or 12-14 halves) contains 190 calories, 18 grams total fat,1.5 g saturated fat, 2.5 g monounsaturated fat, 1.3 g polyunsaturated fat, 2.5 grams ALA, 125 milligrams potassium, 4 grams carbohydrate, 2 grams fiber, 4 grams protein and 20 milligrams of calcium. Walnuts are also a source of magnesium and phosphorus.
Continue Learning about Health Value Of Foods