Cucumbers are a very low calorie vegetable. They have just 15 calories every 3.5 ounces. Cucumbers have no saturated fat, or cholesterol. Cucumber peel is a good source of dietary fiber that helps reduce constipation, and may have some protection against colon cancers by eliminating toxic compounds from the body.

They are a good source of potassium, an electrolyte. Potassium is a heart friendly electrolyte helps bring a reduction in total blood pressure and heart rates by countering effects of sodium.

Cucumbers have mild diuretic property, which perhaps attributed to their free-water, and potassium and low sodium content. This helps in checking weight gain and high blood pressure.

They are also surprisingly high in vitamin K. Vitamin-K has a role in bone strength by promoting bone mass building. It also has a role in the treatment of Alzheimer's disease patients by limiting neuronal damage in their brain.
Fresh cucumbers are composed primarily of water, but still pack a lot of nutritional value. The flesh of cucumbers is a very good source of vitamins C and A, and folic acid. The hard skin is rich in fiber and contains a variety of important minerals, including silica, potassium, magnesium, and molybdenum. A 3 1/2-oz (100 g) serving of cucumber provides only 12 calories as carbohydrate.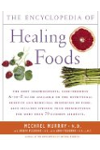 More About this Book
Encyclopedia of Healing Foods
From the bestselling authors of The Encyclopedia of Natural Medicine, the most comprehensive and practical guide available to the nutritional benefits and medicinal properties of virtually everything...
Continue Learning about Health Value Of Foods