Though low in calories, broccoli is one of the most nutrient-dense foods. It is especially rich in vitamin C. A 1-cup serving of broccoli provides about the same amount of protein as a cup of corn or rice, but less than one third the amount of calories. Broccoli is an excellent source of vitamins K, C, and A, as well as folic acid and fiber. It is a very good source of phosphorus, potassium, magnesium, and the vitamins B6 and E. It also contains glucosinolates, phytochemicals with tremendous anti-cancer effects, and the carotenoid lutein. A 31/2-oz (100 g) serving of cooked broccoli provides 35 calories, 2.3 g of protein, no cholesterol, 0.4 g of fat, 7.2 g of carbohydrate, and 3.3 g of fiber.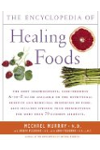 More About this Book
Encyclopedia of Healing Foods
From the bestselling authors of The Encyclopedia of Natural Medicine, the most comprehensive and practical guide available to the nutritional benefits and medicinal properties of virtually everything...
Broccoli is a powerhouse of nutrients. It is rich in:
Phytonutrients
Vitamin C
Vitamin A
Foliate
Vitamin K
B vitamin
Calcium
Manganese
Iron
Magnesium
Selenium
Zinc
Phosphorus
Continue Learning about Health Value Of Foods