Beef is the culinary name that is used for meat from bovines, especially domestic cattle. Beef can be harvested from cows, bulls, heifers or steers. Beef is the third most widely consumed meat in the world, accounting for about 25% of meat production worldwide. Beef is a good source of protein and minerals such as zinc, selenium, phosphorus, iron and B vitamins.
Beef comes from the domestic cow, Bos taurus, and is the most frequently consumed meat in the United States. There is a large variety of beef cattle breeds, but Hereford and Angus are the most common. Beef is available in a wide variety of cuts that can fulfill many different recipe needs. Although the word "beef" is used to describe the meat from this one animal, the truth is that there are many different textures, tastes, and characteristics found within any particular cut. Even within the same cut, various types of beef (for example, Angus from the United States versus Kobe beef from Japan) vary.
Generally speaking, the fat content is higher in the underbelly of the cow. Here, we find the brisket, spareribs, ribs, and the rib eye. As these are fattier, many people believe these are also the tastiest parts. Fat content is decreased in the back leg of the animal because the cow uses this muscular part for locomotion. This area is called the round and is made up of the bottom round, top round, and eye of round. Beef is generally a deep red with streaks of white fat within and sometimes around the cut. High-fat cuts usually appear to have more white streaks, which are referred to as marbling. Marbling generally occurs more when the muscle is used less, a phenomenon that also occurs in humans who are not well exercised.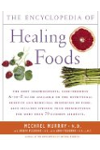 More About this Book
Encyclopedia of Healing Foods
From the bestselling authors of The Encyclopedia of Natural Medicine, the most comprehensive and practical guide available to the nutritional benefits and medicinal properties of virtually everything...
Continue Learning about Health Value Of Foods