Barley (Hordeum vulgare) is reminiscent of the wheat berry, although barley has a lighter color. It is the fourth largest produced cereal globally, behind wheat, rice, and corn. More than 80 percent of the barley produced is used for livestock feed or alcohol manufacture. High in maltose, sprouted barley is the foundation of malt syrup, a much-used sweetener, and also for fermentation to produce a basic component of whiskey, beer, and a number of other beverages. A versatile glutinous grain, barley has a rich, nut-like flavor and a pleasingly chewy, pasta-like consistency.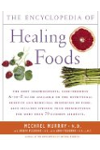 More About this Book
Encyclopedia of Healing Foods
From the bestselling authors of The Encyclopedia of Natural Medicine, the most comprehensive and practical guide available to the nutritional benefits and medicinal properties of virtually everything...
Barley was one of the first crops cultivated by man. It has been used as both a food and a medicine. Today it is ranked as the fourth most important cereal crop in the world. Because it grows well in a range of climatic conditions, it has become a major food staple in many parts of the world. Most barley in the United States is converted into malt for beer production or fed to animals.
Continue Learning about Health Value Of Foods