The avocado, also called the alligator pear, is a product of the fast-growing Persea americana tree. Despite the dozens of varieties available, avocados are divided into three main categories. These are the West Indian, Guatemalan, and Mexican types. West Indian varieties thrive in humid, tropical climates, while Guatemalan types are native to cool, high-altitude tropics and are hardier. Mexican types are native to dry subtropical plateaus and thrive in a Mediterranean climate. Hybrid types exist among all three forms.

Depending on variety, avocados vary in weight from 8-oz to 3 lbs. When harvested, the flesh is hard, but with time it softens to a buttery texture. For example, the Haas avocado (Guatemalan) is the most popular avocado in the U.S. The Haas avocado is purple-brown, pebbled, thick-skinned, and oval in shape. In contrast, the Mexican Fuerte avocado has a thin, smooth, dark green skin, is pear-shaped, and has less oil content. Its prime season is December.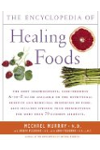 More About this Book
Encyclopedia of Healing Foods
From the bestselling authors of The Encyclopedia of Natural Medicine, the most comprehensive and practical guide available to the nutritional benefits and medicinal properties of virtually everything...
Avocados are fruits. They are high in potassium. They are also high in fats. The fat is healthy monounsaturated fat which is good for your heart. While avocado is a fruit they are eaten more as an accompaniment or a topping on chili or sliced on a sandwich. They are often mashed to make guacamole. They can also be stuffed with different salads or served drizzled in lime juice and cayenne pepper. They are very versatile.
Continue Learning about Health Value Of Foods