Nutrition specialist Sari Greaves explains the heath benefits of soy foods. Watch Sari's video for tips and information on healthy diet and nutrition.
Soy products are dairy free and do not contain saturated fat. They also have special phytonutrients called isoflavones, compounds in plant foods that are converted into phytoestrogens (plant estrogens that are close in structure to the body's form of estrogen). As an added benefit, researchers have found increased metabolism and significantly decreased body weights and adipose (fatty) tissue disposition in those who eat a diet high in soy isoflavones.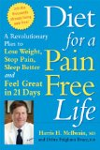 Soybeans and soy products are showing up on more menus and grocery store shelves. This versatile and nutritious legume (bean) provides variety to dishes of all ethnicities. Even better is that soybean products may also contain several nutrients that promote a healthy lifestyle.

Soy products contain high levels of polyunsaturated fat, fiber, vitamins and minerals and low levels of saturated fat. This makes soy products a healthy replacement for meats and other foods high in saturated fats.
Benefits of soy are:
Protection from cancers, such as rectal and colon
Better calcium absorption
Relief from menopausal and PMS symptoms
Lowers LDL or "bad" cholesterol
Reduces risk of heart attack or stroke
Boosts immune system
Promotes better control of diabetes
Continue Learning about Health Value Of Foods