Real maple syrup contains important minerals, like calcium, potassium, and magnesium, that help regulate normal function of the body's cells, bones, muscles, and nerves. Maple syrup also contains small amounts of B-vitamins, including niacin, riboflavin, and pantothenic acid.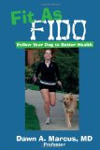 More About this Book
Fit As Fido: Follow Your Dog to Better Health
Let your dog teach you to live a happier, healthier, and more fulfilling life! Companionship with your pet can be used as a means and a motivator to increase your own physical and mental fitness....
Maple syrup comes from the sap of trees. Maple syrup contains vitamins, minerals, and enzymes. Many health professionals believe maple syrup is better for you than other sugars like white sugar, agave, corn syrup, or high fructose corn syrup. Some people claim that a drink of hot water, lemon juice, maple syrup, and cayenne pepper will help you detox and lose weight.
Continue Learning about Health Value Of Foods