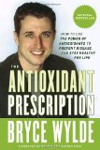 Nuts and seeds have recently gained in popularity because of their omega-3 fatty acid content, which studies have demonstrated are great for your heart and brain function.

But nuts and seeds have great antioxidant power as well. Walnuts, pecans, hazelnuts and almonds top the nut list for their nutritional benefits and antioxidant power. Where seeds are concerned, I like the many benefits that sunflower, pumpkin and sesame seeds have to offer, including their high calcium and zinc content.

I recommend no more but no less than the equivalent of one handful of fresh (nonrancid) unsalted, un-roasted nuts and seeds, five times a week.