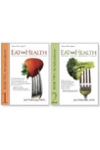 Many people perceive raw nuts as high-fat, high-calorie foods that should be avoided or consumed in only token amounts. The important role of raw nuts and seeds in the American diet has been almost completely ignored by nutritional advisers, and their absence is a huge flaw in American cuisine. The results of recent research have changed this perception completely. Fats from raw nuts, and seeds are rich in antioxidants and phytochemicals that not only offer unique health benefits, but also maintain the freshness of the food, preventing rancidity of the fat within.

Recent evidence shows that the frequent consumption of nuts is strongly protective against heart disease. An analysis of several large dietary studies found that those with the highest intake of nuts (about five times per week) had a 39% lower risk of coronary heart disease. In addition, several clinical studies have observed beneficial effects of diets high in nuts on lowering cholesterol levels. The beneficial effects of nut consumption observed in clinical and epidemiologic studies underscore the importance of distinguishing different types of fats. One study estimated that every exchange of one ounce of saturated fat for one ounce of fat from whole nuts was associated with a 45% reduction in heart disease risk.

Study after study shows that raw nuts and seeds not only lower cholesterol, but also extend life span and protect against common diseases of aging. They also provide a good source of protein, which makes up about 15% to 25% of their calories. Nuts' hard shells also keep them well protected from pesticides and environmental pollution. Raw nuts and seeds, not the salted or roasted variety, provide the most health benefits.

A tablespoon of ground flaxseed, hempseeds, chia seeds, or other seeds can supply those hard-to-find omega-3 fats that protect against diabetes, heart disease, and cancer. Seeds are also rich in lignans, a type of fiber associated with a reduced risk of both breast cancer and prostate cancer. In addition, seeds are a good source of iron, zinc, calcium, protein, potassium, magnesium, Vitamin E, and folate. The plant goes to great effort in producing and protecting its seed, filling each genetic package with high concentrations of vitamins, minerals, proteins, essential oils, and enzymes.