Following are some of the health benefits of eating blueberries:
Blueberries have one of the highest levels of antioxidants among fruits due to their phytochemical content. Anthocyanins, ellagic acid and catechins make up just some of these great nutrients giving blueberries their cancer-fighting properties.
Blueberries are a great source of dietary fiber, manganese and vitamins C and K.
Blueberries can help reduce the risk of colorectal, mouth, pharynx, larynx and lung cancer.
Blueberries can increase the self-destruction of lung, stomach, pancreatic and breast cancer cells.
Quick tips: Buy fresh or frozen blueberries. Better yet, pick extra blueberries in the summer and freeze for winter use. For double cancer-fighting properties, mix blueberries and ground flax seed in your pancake mix.
The health benefits of blueberries are due mainly to anthocyanidins. These compounds exert exceptional antioxidant activity. In fact, when researchers at Tufts University analyzed 60 fruits and vegetables for their antioxidant capability, blueberries rated the highest.
One of the practical applications of this antioxidant activity may be in the protection against Alzheimer's disease. Researchers have found that blueberries help protect the brain from oxidative stress and may reduce the effects of age-related conditions, such as Alzheimer's disease, in animal studies.
Currently, the most popular medical use of blueberries is in improving vision and protecting against age-related macular degeneration. This use was stimulated by the fact that during World War II, British Royal Air Force pilots consumed bilberry (a variety of European blueberry) preserves before their night missions. Based on folk medicine, the pilots believed that the bilberries would improve their ability to see at night. After the war, numerous studies demonstrated that blueberry extracts do in fact improve nighttime visual acuity and lead to quicker adjustment to darkness and faster restoration of visual acuity after exposure to glare. Clinical studies have shown good results in individuals with sensitivity to bright lights, diabetic retinopathy and macular degeneration. Additional research also points out that bilberries and blueberries may be protective against the development of cataracts and glaucoma, and quite therapeutic in the treatment of varicose veins, hemorrhoids and peptic ulcers. Blueberries were also traditionally a popular remedy for both diarrhea and constipation. In addition to soluble and insoluble fiber, blueberries contain tannins, which act as astringents in the digestive system to firm up a loose stool.
Blueberries also promote urinary tract health because they contain the same compounds found in cranberries that help prevent or eliminate urinary tract infections. To cause infection, bacteria must first adhere to the mucosal lining of the urethra and bladder. Components found in cranberry and blueberry juice reduce the ability of E. coli, the bacterium that is the most common cause of urinary tract infections, to adhere to the mucosal lining.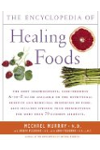 More About this Book
Encyclopedia of Healing Foods
From the bestselling authors of The Encyclopedia of Natural Medicine, the most comprehensive and practical guide available to the nutritional benefits and medicinal properties of virtually everything...
Blueberries contain an especially high concentration of antioxidants, which may reduce the risk of developing heart disease and cancer. Blueberries may also reduce aging effects. Studies in aging rats show improvements in memory and learning when rats are fed diets rich in blueberries. Blueberries may have other positive effects on slowing aging.
When nematode worms were treated with blueberry extracts, their lifespan increased by up to 37 percent. Another interesting experiment in rats showed reduced effects of strokes in those rats fed a diet rich in blueberries for one month before their stroke. Similar studies testing people eating blueberries are needed before we will know whether blueberry-rich diets will similarly slow the aging process in humans.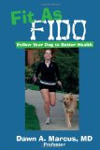 More About this Book
Fit As Fido: Follow Your Dog to Better Health
Let your dog teach you to live a happier, healthier, and more fulfilling life! Companionship with your pet can be used as a means and a motivator to increase your own physical and mental fitness....
In a USDA study, blueberries ranked fifth in total antioxidant capacity per serving out of more than 100 common foods. The highest levels were found in wild blueberries, however, which ranked second. Anthocyanins and flavonols are responsible for their antioxidant activity, allowing them to fight free radical damage, strengthen tissues and blood vessels, protect eye health and ward off varicose veins, ulcers, hemorrhoids, heart disease and cancer. Tufts University researchers have found that blueberries can also slow, and even reverse, age-related brain decline in animal studies. And, like their little red cranberry cousin, blueberries contain compounds that may reduce the risk of urinary-tract infections.

Blueberries have several health benefits because of their naturally-grown substances. One of those substances is pterostilbene, (pronounced tear-o-still-bean).
Pterostilbene has been the subject of several clinical studies, proving to exhibit positive medicinal purposes. Pterostilbene helps reduce cholesterol levels by binding to specific receptor sites in the body. In a clinical study using animals fed on a blueberry based diet, pterostilbene exhibited anti-inflammation properties by suppressing abnormal tube-like glands in the lining of the colon and rectum. Pterostilbene has also been noted to slow or reverse the decline in motor skills (mobility) and cognitive (mental) decline.
So the next time you're enjoying a bowl of blueberries, know that your colon and specific receptor sites enjoy them even more.
Blueberries are a source of vitamin C, vitamin K and fiber. The color of blueberries, from deep blue to purple, is caused by a group of flavonoids called anthocyanins, which give the blueberry its remarkable antioxidant power.
Laboratory tests suggest that anthocyanins from fruit such as the blueberry may help to prevent degenerative diseases, including cancer, heart disease, stroke and memory loss.
Blueberry anthocyanins protect humans and animals from the effects of a condition known as oxidative stress, which underlies the common disorders associated with aging. Oxidative stress increases with high fat meals and with exposure to environmental toxins.
Blueberries have a lot of vitamin C, fiber and antioxidants, which help with disease prevention. Increase your intake of them by adding some fresh berries to a yogurt parfait or a bowl of cereal. Also, frozen blueberries make a great snack!
In addition to being a favorite in the flavor department, blueberries are also a great nutritional treat. On a per serving basis, they pack high levels of antioxidants; they are a good source of fiber; and one cup's worth will provide you with a fourth of the daily requirement for vitamin C.
Blueberries have earned an impressive reputation as a superfood because they are a great source of antioxidants, vitamin C, and fiber. They've also been shown to enhance memorization skills. Multiple studies have shown a potential benefit of blueberries in improving memory in older adults at risk for dementia. Such studies focus on using blueberry juice, a great way of getting the benefits of blueberries. Mix 1 tablespoon of blueberry concentrate with 4-5 ounces of water. One tablespoon of the concentrate is equivalent to one cup of blueberries. Blueberry concentrate costs around $21 a pint and can be found at health food stores or online.
This content originally appeared on doctoroz.com.
Continue Learning about Health Value Of Foods