Legumes come from plants whose seed pods split on two sides when they're ripe. Beans, lentils, soybeans, and peas are all legumes. Legumes are high in protein, iron, fiber and other vitamins and minerals and phytonutrients. In the MyPyramid food guide, legumes can be counted in the Meat and Beans Group or the Vegetable Group -- but not both at the same time. Add legumes to soups, stews and casseroles or toss some in salads.
Legumes (beans) are among the oldest cultivated plants. In fact, fossil records demonstrate that prehistoric people domesticated and cultivated legumes for food. Today, this extremely large category of vegetables contains more than 13,000 species and is second only to grains in supplying calories and protein to the world's population. Compared to grains, legumes supply the same number of calories, but two to four times as much protein.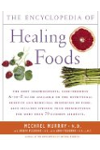 More About this Book
Encyclopedia of Healing Foods
From the bestselling authors of The Encyclopedia of Natural Medicine, the most comprehensive and practical guide available to the nutritional benefits and medicinal properties of virtually everything...
Legumes are beans. They come in all sizes, shapes, flavors and colors -- and they're good for you.

Some healthy legume choices include black beans, kidney beans, soybeans, lentils, lima beans, black eyed peas, fava beans and edamame.
Continue Learning about Health Value Of Foods