Peaches and nectarines provide good levels of potassium, carotenes, flavonoids, and natural sugars. A 3 1/2-oz (100 g) serving equals one medium peach or nectarine and provides 49 calories, 0.9 g of protein, 0.3 g of fat, and 9.5 g of carbohydrate, with 1.5 g of fiber and 8.4 g of natural sugars (sucrose, glucose, and fructose).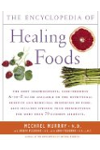 More About this Book
Encyclopedia of Healing Foods
From the bestselling authors of The Encyclopedia of Natural Medicine, the most comprehensive and practical guide available to the nutritional benefits and medicinal properties of virtually everything...
Peaches are high in vitamin A. Their orangey peachy pigments make them a good source of beta carotene. Peaches contain a good amount of vitamin C but are not particularly high in fiber. They are fat free and contain no fat, sodium or cholesterol. Peaches are the third most popular fruit in the United States.
Continue Learning about Health Value Of Foods