Papayas are a tropical fruit. At just 31 calories per half cup, papaya is an excellent source of vitamin C and vitamin A for healthy skin and eye health among other benefits. Papaya is also a good source of potassium, which is essential for healthy blood pressure levels.

In addition to its strong nutrient profile, papayas contain a chemical called papain. Papain is an enzyme that helps break down proteins. It is commonly used as a meat tenderizer.

Next time you're out for Thai food, consider the fresh papaya salad for a healthy and delicious start or end to your meal.
Papayas are an excellent source of antioxidant nutrients, such as carotenes, vitamin C, and flavonoids. They are also a very good source of folic acid, vitamins E and A, potassium, and dietary fiber. A 31/2-oz (100 g) serving is about 1/3 of a medium mango and provides 39 calories, 0.6 g of protein, 0.1 g of fat, and 9.8 g of carbohydrate, with 1.8 g of fiber and 5.9 g of natural sugars.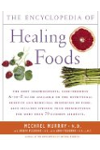 More About this Book
Encyclopedia of Healing Foods
From the bestselling authors of The Encyclopedia of Natural Medicine, the most comprehensive and practical guide available to the nutritional benefits and medicinal properties of virtually everything...
Continue Learning about Health Value Of Foods