At just 45 calories per cup, watermelon is wonderful. This flavorful red fruit is naturally fat free and rich in vitamin C and vitamin A. It also provides potassium and the prostate cancer and heart disease fighting phytochemical, lycopene.
Watermelon has extremely high water content, approximately 92 percent. It is very low in calories, with 1-cup (154 g) of watermelon containing only 48 calories, yet is still a very good source of vitamin C, beta-carotene, and lycopene. In fact, 1-cup of watermelon provides 19.5 percent of the daily value of vitamin C and, through its beta-carotene, 13.9 percent of the daily value of vitamin A. It is also a good source of vitamins B1 and B6, pantothenic acid, biotin, magnesium, potassium, and dietary fiber.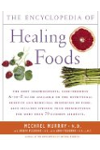 More About this Book
Encyclopedia of Healing Foods
From the bestselling authors of The Encyclopedia of Natural Medicine, the most comprehensive and practical guide available to the nutritional benefits and medicinal properties of virtually everything...
Continue Learning about Health Value Of Foods