Brazil nuts are high in calcium, phosphorus, and thiamin. They are also high in selenium which is implicated in cancer prevention, especially in skin cancer prevention. They are high in healthy monounsaturated fats and can play a role in lowering cholesterol. Brazil nuts are the fruit of a tall evergreen tree in the Amazon basin. They grow in clusters that resemble a coconut.
A serving of six Brazil nuts contain 190 calories; 4 grams protein; 19 grams fat; 4 grams saturated fat; 7 grams monounsaturated, 6 grams polyunsaturated; 2 grams fiber. There are 45 milligrams of calcium in a serving of Brazil nuts. Unsalted Brazil nuts are very low in sodium, containing only 1 gram of sodium per serving. Brazil nuts can be eaten as a snack or chopped and added to your favorite salad, dessert or fish recipe. Remember the calories can add up quickly so keep a watch on your portion size.
One ounce of Brazil nuts contains a small amount of the b-vitamin thiamin and more significant amounts of magnesium, phosphorus and copper along with a little bit of iron, potassium and zinc. Brazil nuts are an excellent source of heart-healthy fats along with very high amounts of the mineral selenium. One ounce of brazil nuts can have about 500 micrograms of selenium.

This mineral is known as a trace mineral because it is required in very small amounts (micrograms). Consuming more than 400 mcg of selenium over a period of weeks-months can result in selenium toxicity, also known as selenosis. Selenium toxicity is characterized by garlic-odor of the breath, hair loss and fatigue. Getting adequate selenium on a daily basis is critical as it is required for many biological functions. These include thyroid function and antioxidant protection. If one is to consume brazil nuts, just be careful not to consume more than 1/2-1 oz. per day.
Although just two Brazil nuts provide about 90 calories, the caloric equivalent of an egg, this nut is also a heavyweight when it comes to nutritional value. In addition to being loaded with healthy polyunsaturated fats, Brazil nuts are the richest and most reliable food source of selenium. Just one Brazil nut can provide more than the daily recommended value of this important trace mineral. Brazil nuts are also a very good source of chromium.

A 1/3-cup of shelled Brazil nuts provides 300 calories, 31 g of fat, 7 g of protein, and 6 of carbohydrate.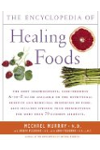 More About this Book
Encyclopedia of Healing Foods
From the bestselling authors of The Encyclopedia of Natural Medicine, the most comprehensive and practical guide available to the nutritional benefits and medicinal properties of virtually everything...
Continue Learning about Health Value Of Foods

A healthy diet is rich in foods with high nutritional value, providing your body with the vitamins, minerals and other food nutrients it needs to protect against disease and maintain a healthy weight. To identify healthy foods, it...
's important to read nutrition labels and know the source of your food. Products advertised as whole-grain, organic or fortified may not necessarily be healthy for you. Find out how to get the most health value from various fruits, nuts, spices, oils and vegetables -- and learn which types of red meat and processed foods to avoid -- with expert advice from Sharecare.
More