Indian scientists found that mango pulp extract reduced free-radical damage to the prostate in animal studies. It also seemed to reactivate internal antioxidant enzymes needed to protect the prostate. Mangoes are good for the skin as well: Their vitamin C increases collagen formation, and beta-carotene may act as a gentle internal sunscreen. Those nutrients also help maintain a healthy immune system. And the vitamin C, vitamin E and fiber in mangoes help lower LDL cholesterol.
Mangoes have long been valued as a health promoting fruit. We now know the health benefits are due to their high concentration of carotenoids, antioxidant nutrients, and various phytochemicals. Compounds in the aqueous portion of the mango include not only water-soluble nutrients, such as vitamin C, but also valuable flavonoid compounds, which appear to contribute to the mango's anti-cancer effect. Furthermore, there is human evidence that demonstrates that mangoes can help fight cancer. A diet analysis of 64 patients with gallbladder cancer and 101 patients with gallstones showed that mango consumption was co-related with a 60 percent reduction in the risk of gallbladder cancer, the highest reduction in the risk of this cancer found for any fruit or vegetable.

Mangoes also contain a number of enzymes, including one similar to the papain in papayas, which improve digestion. Among them are magneferin, katechol oxidase, and lactase. In fact, in tropical countries where the mango is grown, it is often used as a meat tenderizer since its powerful proteolytic enzymes help break down proteins. The mango may also offer some protection against infections. Since vitamin A's nickname is the "anti-infective vitamin," the mango may literally be a life-saving fruit in developing countries where there is a severe seasonal shortage of carotenoid-rich foods. In other studies indicating the mango's protective effects on overall health, infants in Gambia and India were found to have the best gut integrity and thus the least intestinal disease and diarrhea during the three months when mangoes were in season in each country.

Because of their high iron content, in India mangoes are used as blood builders and are suggested for the treatment of anemia and as a beneficial food for women, especially during pregnancy and menstruation. People who suffer from muscle cramps, stress, and heart problems can benefit from mangoes' high potassium and magnesium content, which also helps those with acidosis. In addition, the mango, one of the most delicious tropical fruits, can be safely enjoyed by persons with diabetes. When plasma glucose and insulin responses to various tropical fruits were compared, the glucose response curve to mango was the lowest of all.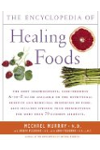 More About this Book
Encyclopedia of Healing Foods
From the bestselling authors of The Encyclopedia of Natural Medicine, the most comprehensive and practical guide available to the nutritional benefits and medicinal properties of virtually everything...
Continue Learning about Health Value Of Foods