Kiwi fruit is rich in vitamin C, an important antioxidant our bodies need, but can't produce. In this video, registered dietician Frances Largeman-Roth discusses the benefits of vitamin C and why it's important to get our daily dose of it.
Kiwifruit is rich in antioxidants and enzymes. Like other vitamin C-rich foods, kiwis are particularly important in promoting respiratory tract health. In a study of 6-and 7-year-old children in northern and central Italy, the more kiwi or citrus fruit these children consumed, the less likely they were to have respiratory-related health problems, including wheezing, shortness of breath and night coughing.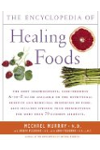 More About this Book
Encyclopedia of Healing Foods
From the bestselling authors of The Encyclopedia of Natural Medicine, the most comprehensive and practical guide available to the nutritional benefits and medicinal properties of virtually everything...
Kiwis are high in vitamin C. One large kiwi has more vitamin C than a cup of strawberries, a medium orange, or a half grapefruit. Two large kiwis supply one and a half times as much potassium as an average sized banana and almost as much dietary fiber as a cup of bran flakes.
Kiwi contains twice the vitamin C of an orange, more potassium than a banana, and as much fiber as a bowl of bran flakes. In fact, a study by Rutgers University looked at 27 of the most commonly consumed fruits and concluded that, ounce for ounce, kiwi ranked number one when it comes to nutrient density.
Kiwi's naturally occurring sugars satisfy that need for "something sweet," and its high fiber content helps keep your blood sugar stable longer, giving you lasting energy. In fact, with a glycemic index (GI) of about 47, kiwi is considered a low-GI fruit, a key indicator of a food's ability to keep your blood sugar stable longer. It's also a good source of folic acid, a key nutrient involved in red blood cell production, another key component of your body's energy pathways.
There are the other health benefits stemming from that luscious emerald color: Kiwi is packed with antioxidants that help protect your cells from DNA damage, including lutein, an antioxidant that research suggests helps reduce the risk of macular degeneration.
Norwegian researchers found that eating two kiwis per day can significantly lower blood-clot risk and reduce blood lipids. And Chinese researchers report that two kiwis a day counters chronic constipation, doubling the frequency of bowel movements. Kiwis contain the enzyme actinidin (related to bromelain in pineapple and papain in papaya), which suggests it may also help alleviate inflammation. And its vitamin C, fiber and potassium make the kiwi a particularly heart healthy fruit.
Kiwi is one of my favorite fruits. One large kiwi will meet your vitamin C needs for the day by providing you with almost 90 mg. Vitamin C is a key nutrient for healthy skin, cell repair and bolstering the ability of the immune system to fight off viruses and bacteria. It also has 3 grams of fiber packed into its small size. Fiber helps improve digestive health. In addition, kiwi has potassium and folate. Both important for a healthy heart.
An easy way to eat a kiwi is to simply cut it in half and scoop the bright green flesh out of the outer furry brown coat with a spoon. It also tastes great mixed with slide strawberries.
Eat one kiwi a day to bolster your immunity. Just one kiwi provides you with most of the vitamin C you need daily. Vitamin C may help reduce stress response, possibly because prolonged periods of stress deplete levels of vitamin C in the adrenal glands. Stress can negatively impact your immune system. Be proactive by consuming appropriate amounts of vitamin C and improve your body's ability to fight off colds and infection. Kiwis also have high fiber and contain potassium, serotonin, and vitamin K, all healthy additions to your diet.
This content originally appeared on doctoroz.com.
Continue Learning about Health Value Of Foods