While dates come in many varieties, the most common in the U.S. is the Deglet Noor, which is loaded with heart healthy nutrients that help lower bad cholesterol and regulate blood pressure. Researchers at the University of California, Davis, found Deglet Noor dates to have more antioxidant scavenging power than other varieties -- and that a handful has about the same antioxidant capacity as half a glass of red wine. Dates are packed with nutrients. They contain carbohydrates, amino acids, fiber, vitamin C, iron and potassium -- nutrients our bodies need for optimal health. The carbohydrates, in the form of sugars, are required to fuel the brain, nervous system and red blood cells. Amino acids provide the structural component of cells, and fiber is key to digestive health, cardiovascular health and weight control. Iron is essential for healthy red blood cells and energy production and potassium helps to counter the effects of sodium on blood pressure. Vitamin C acts as an antioxidant and helps fight the damaging effects of free radicals.
Dried dates were traditionally used in the Sahara to provide quick energy to camels. Like potatoes, they're a high glycemic snack, but rich in minerals too, especially potassium. Split the dates and stuff an almond inside for a sweet and chewy candy alternative.

From The Mind-Beauty Connection: 9 Days to Less Stress, Gorgeous Skin, and a Whole New You by Amy Wechsler.

Dates are among the most alkaline of foods and contain a special type of soluble fiber called beta-D-glucan. Beta-D-glucan fiber has been shown to decrease the body's absorption of cholesterol and to slow or delay absorption of glucose (sugar) in the small intestine, thus helping to keep blood sugar levels even. Because of its ability to absorb and hold water, beta-D-glucan adds bulk and some softness to the stools, easing both stool movement through the colon and elimination. In addition, this soluble fiber passes through the intestinal tract more slowly than insoluble fiber. By slowing down gastric emptying (the rate at which the stomach digests and empties its contents after a meal), beta-D-glucan increases feelings of satiety and can thus aid in weight loss.

Recent laboratory studies reveal that dates are also surprisingly rich in antioxidant and anti-cancer compounds. Date extract was found to prevent free-radical damage to both fats and protein in a dose dependent manner -- the higher the concentration, the greater the protection against free radicals.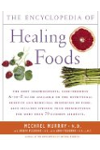 More About this Book
Encyclopedia of Healing Foods
From the bestselling authors of The Encyclopedia of Natural Medicine, the most comprehensive and practical guide available to the nutritional benefits and medicinal properties of virtually everything...
Continue Learning about Health Value Of Foods