Lemons are a fabulous food for health, beauty and detoxification because they are packed with vitamin C, plus enzymes that support the liver. In this video, I will share some easy ways to add lemons to your daily diet.
When life gives you lemons, juice, peel, and eat them for optimal health! These little yellow fruits truly do hold the secret solutions to so many of our health complaints. Lemons are also an effective weapon in the battle for better energy.

Many women and mothers simply don't know how to put themselves first. Now, bear with me here. Think about the times you've been on a plane. Before take off, the airplane safety speech advises you to put on your own oxygen mask before attempting to help someone else with their mask. So, what does airplane safety have to do with lemons? Lemons are one of our greatest, easiest and most affordable ways to take care of ourselves first. This will make you a better person for those around you.

When we add organic lemons into our diet, we get a better working digestive system, a healthier immune system and better-looking skin. We enable the body to remove bad cholesterol, and we create a supportive environment for good bacteria; all of this means the body works more efficiently and effectively.


The phytochemical limonene, which is extracted from lemons, is currently being used in clinical trials to dissolve gallstones and is showing extremely promising anti-cancer activities. The highest content of limonene is found in the white spongy inner parts of the lemon.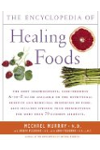 More About this Book
Encyclopedia of Healing Foods
From the bestselling authors of The Encyclopedia of Natural Medicine, the most comprehensive and practical guide available to the nutritional benefits and medicinal properties of virtually everything...
Continue Learning about Health Value Of Foods