For a well balanced diet, we must consume variety of foods in moderation.
limit your red meat intake to 4 to 6 oz per meal
include in your diet: fish, poultry, legumes and tree nuts
Yes, you should avoid red meat. If you choose to eat red meat:
Limit your intake to no more than three or four ounces daily -- about the size of a deck of playing cards. And choose the leanest cuts available, keeping in mind that the USDA allows the meat and dairy industry to label fat content by weight instead of by percentage of calories.
Avoid consuming well-done, charbroiled, and fat-laden meats.
Don't eat cured meats, including bacon and hot dogs, especially if you are pregnant or a child under the age of 12.
Consider buying free-range meats or wild game.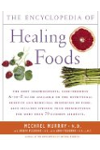 More About this Book
Encyclopedia of Healing Foods
From the bestselling authors of The Encyclopedia of Natural Medicine, the most comprehensive and practical guide available to the nutritional benefits and medicinal properties of virtually everything...
Continue Learning about Health Value Of Foods