To eat healthfully, fruits and vegetables should form the base of your food pyramid. That means that grains should be consumed in a much smaller amount than you were probably eating before. Grains simply do not contain enough nutrients per calorie to form a substantial part of your diet.

Whole grains are the least nutrient-dense food of the seed family, and they do not show the powerful protection against disease that is apparent in the scientific studies of fresh fruit, vegetables, beans, raw nuts, or seeds. Just because a food is called whole grain or organic does not make it a good food. Many whole-grain cold cereals are so processed and overly cooked that they have lost most of their nutritional value. Sprouted grains and grains cooked in water are healthier and more nutritious to eat than precooked breakfast cereals. Some of the healthier grains to consume include hulled barley, buckwheat (kasha), millet, oats, quinoa, and wild rice. As a minor part of your diet, they can be water-cooked and used as a breakfast cereal with fruits and nuts or a dinner side dish.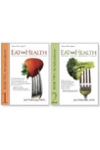 Whole grains are a great source of complex carbohydrates, B Vitamins, and help promote healthy energy and blood sugar levels. Look for items that are labeled 100% whole grains for the most nutritional bang for your buck. To find out more about whole grains, go to www.eatright.org.
Continue Learning about Health Value Of Foods

A healthy diet is rich in foods with high nutritional value, providing your body with the vitamins, minerals and other food nutrients it needs to protect against disease and maintain a healthy weight. To identify healthy foods, it...
's important to read nutrition labels and know the source of your food. Products advertised as whole-grain, organic or fortified may not necessarily be healthy for you. Find out how to get the most health value from various fruits, nuts, spices, oils and vegetables -- and learn which types of red meat and processed foods to avoid -- with expert advice from Sharecare.
More