Soy sauce is quite high in salt (sodium chloride). Its use should be restricted by people with high blood pressure or those with salt sensitivity. When used, reduced-salt varieties should be chosen.

All soy products contain a high amount of oxalate. Individuals with a history of oxalate containing kidney stones should avoid over-consuming soy products.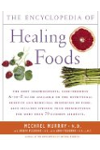 More About this Book
Encyclopedia of Healing Foods
From the bestselling authors of The Encyclopedia of Natural Medicine, the most comprehensive and practical guide available to the nutritional benefits and medicinal properties of virtually everything...
Soy sauce is a safe food to consume. While it is low in calories with only 8 calories/tablespoon, it is not a good source of soy. It is important to note that soy sauce is very high in sodium with about 900 milligrams of sodium per tablespoon. The 2010 dietary recommendations suggest that healthy people limit their sodium intake to 2300 milligrams per day and people with diabetes, high blood pressure, or kidney disease, all African Americans, people over the age of 51 should limit their sodium intake to 1500 milligrams per day.
Continue Learning about Health Value Of Foods