Winter squash is available in a number of varieties -- all with slightly different nutrition profiles. However, with it's yellow-orange pulp, winter squash is an excellent source of beta carotene. Most deliver 3-5g fiber and just 40-60 calories per half cup serving. Winter squash is also a great source of vitamin C. Winter squash, like other richly colored vegetables, are excellent sources of carotenes -- the richer the color, the richer their concentration. They are also a very good source of vitamins C and B1, folic acid, pantothenic acid, potassium, and dietary fiber. In addition, winter squash is a good source of vitamin B6 and niacin.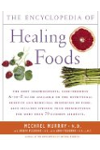 More About this Book
Encyclopedia of Healing Foods
From the bestselling authors of The Encyclopedia of Natural Medicine, the most comprehensive and practical guide available to the nutritional benefits and medicinal properties of virtually everything...
Continue Learning about Health Value Of Foods