Tomatoes are one of the best sources of lycopene, a potent antioxidant, which studies show may reduce the risk of heart disease and a range of cancers, including prostate, ovarian, cervical, oral, pharyngeal, esophageal, stomach, colorectal, lung and pancreatic. A University of Manchester study in the U.K. found that eating lycopene-rich tomatoes gave subjects 33 percent more protection against sunburn.
Note: Cooking tomatoes helps to maximize these benefits, because it releases lycopene from their cell walls, making it more available to the body.
The health-promoting ability of tomatoes has received a lot of attention recently because of their lycopene content. This red carotene has been shown to be extremely protective against breast, colon, lung, skin and prostate cancers. It has also been shown to lower the risk of heart disease, cataracts and macular degeneration. Lycopene helps prevent these diseases and others by neutralizing harmful oxygen free radicals before they can damage cellular structures.
In one of the more detailed studies, Harvard researchers discovered that men who consumed the highest levels of lycopene (6.5 mg per day) in their diet showed a 21 percent decreased risk of prostate cancer compared with those eating the lowest levels. Men who ate two or more servings of tomato sauce each week were 23 percent less likely to develop prostate cancer during the twenty-two years of the study, than men who ate less than one serving of tomato sauce each month. In another study, lycopene supplementation (15 mg per day) given to patients with existing prostate cancer was shown to slow tumor growth, shrink the tumor and lower the level of PSA (prostate specific antigen, a marker of cancer activity) by 18 percent.
The amount of lycopene in tomatoes can vary significantly, depending upon the type of tomato and how ripe it is. In the reddest strains, lycopene concentration is close to 50 mg per kg, compared with only 5 mg per kg in the yellow strains. Lycopene appears to be relatively stable during cooking and food processing. In fact, you actually get up to five times as much lycopene from tomato paste or juice as you do from raw tomatoes, because processing "liberates" more lycopene from the plant's cells. Eating a lycopene source with oil, such as olive oil, can also improve its absorption. That's one reason why a Mediterranean diet has so many healthful properties.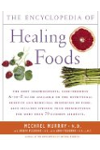 More About this Book
Encyclopedia of Healing Foods
From the bestselling authors of The Encyclopedia of Natural Medicine, the most comprehensive and practical guide available to the nutritional benefits and medicinal properties of virtually everything...
Following are some of the health benefits of eating tomatoes:
Tomatoes are a good source of dietary fiber, potassium and vitamins A, C and K.
Tomatoes are rich in beta-carotene and the carotenoid, lycopene, which act as antioxidants in the body. These compounds may prevent damage to DNA and other cells, and have been shown to decrease the growth of cancer cells in cell studies.
Tomatoes may reduce the risk of mouth, pharynx, larynx and lung cancer.
Quick tips: Buy fresh when in season or canned whole or diced tomatoes with no added salt in off season months. Store fresh tomatoes at room temperature for optimal flavor. Tomatoes can lose their flavor at cold temperatures.
Trinity Health is a Catholic health care organization that acts in accordance with the Catholic tradition and does not condone or support all practices covered in this site. In case of emergency call 911. This site is educational and not a substitute for professional medical advice, always seek the advice of a qualified healthcare provider.
Continue Learning about Health Value Of Foods