Pineapple is rich in an enzyme called bromelain, which helps our bodies to digest protein. In this video, integrative gastroenterologist Robynne Chutkan, MD, explains why the bromelain found in pineapple is good for digestive health.
Pineapple, whether fresh or frozen, is the only known source of bromelain -- a protein-digesting enzyme that research shows to have anti-inflammatory properties that may alleviate symptoms of osteoarthritis, sinusitis and asthma; help heal injuries; and inhibit the growth of malignant lung and breast-cancer cells. A nutrient combo that included bromelain cut down plastic surgery recovery time by17%, according to the American Society of Plastic Surgeons. Emerging research suggests that eating more fresh pineapple could counter colitis and thus play a role in preventing colon cancer. Duke University researcher Laura P. Hale, MD, PhD, has shown that bromelain can decrease some of the faulty immune responses that cause colitis. Fresh pineapple is rich in bromelain, which is made up of a group of sulfur-containing proteolytic (protein-digesting) enzymes that not only aid digestion, but can effectively reduce inflammation and swelling, as in carpal tunnel syndrome; break down mucus in respiratory conditions, such as pneumonia and bronchitis; and have even been used experimentally as an anti-cancer agent. A variety of inflammatory agents are inhibited by the action of bromelain. In clinical human trials, bromelain has demonstrated significant anti-inflammatory effects, reducing swelling in inflammatory conditions such as acute sinusitis, sore throat, arthritis, and gout, and speeding recovery from injuries and surgery. To maximize bromelain's anti-inflammatory effects, pineapple should be eaten alone between meals or its enzymes will be used up in digesting food.

Pineapple is also an excellent source of the trace mineral manganese, an essential cofactor in a number of enzymes important in energy production and antioxidant defenses. For example, the key antioxidant enzyme superoxide dismutase requires manganese. Just one cup of fresh pineapple supplies 73.1 percent of the daily value of manganese.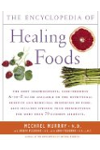 More About this Book
Encyclopedia of Healing Foods
From the bestselling authors of The Encyclopedia of Natural Medicine, the most comprehensive and practical guide available to the nutritional benefits and medicinal properties of virtually everything...
Continue Learning about Health Value Of Foods

A healthy diet is rich in foods with high nutritional value, providing your body with the vitamins, minerals and other food nutrients it needs to protect against disease and maintain a healthy weight. To identify healthy foods, it...
's important to read nutrition labels and know the source of your food. Products advertised as whole-grain, organic or fortified may not necessarily be healthy for you. Find out how to get the most health value from various fruits, nuts, spices, oils and vegetables -- and learn which types of red meat and processed foods to avoid -- with expert advice from Sharecare.
More