What are the health benefits of eating cabbage?
Cabbage is a great vegetable to add to your diet because you can eat lots of it in high volume, it's crunchy, and it's versatile in many healthy recipes. Watch registered dietician Sharon Richter discuss the healthy benefits of eating cabbage.
Cabbage can be a potent cancer fighter. The trick is in the prep, as Dr. Will Clower, founder of Mediterranean Wellness, explains in this video.
Green cabbage provides the highest levels of two anticancer glucosinolates, which are converted upon consumption into compounds that may inhibit tumor growth. Research shows that one compound, allyl isothiocyanate, disrupts the cell division of colon cancer, while the other, indole-3-carbinol, may lower the risk of developing estrogen-related cancers, such as breast and ovarian cancer. Yet a third compound released with cabbage consumption may inhibit the growth of human prostate cancer cells, according to research from the University of California, Berkeley.

Red cabbage contains glucosinolates, which stimulate the body's natural detoxification systems and may reduce the risk of developing several cancers. But, unlike its greener cousin, red cabbage also contains anthocyanins. Both types of antioxidants can reduce the damage caused by free radicals and protect against DNA damage.
One of the American Cancer Society's key dietary recommendations to reduce the risk of cancer is to include cruciferous vegetables, such as cabbage, broccoli,Brussels sprouts, and cauliflower, in the diet on a regular basis. The cabbage family of vegetables contains more phytochemicals with demonstrable anti-cancer properties than any other vegetable family. Most of these compounds are glucosinolates. The compounds receiving the most attention are indole-3-carbinol, sulforaphane, di-indolmethane, and isothiocyanates. The anti-cancer effects of cabbage-family vegetables have been noted in population studies. Consistently, the higher the intake of cabbage-family vegetables, the lower the rates of cancer, particularly colon, prostate, lung, and breast cancer. The glucosinolates in cabbage work primarily by increasing antioxidant defense mechanisms, as well as improving the body's ability to detoxify and eliminate harmful chemicals and hormones. Specifically, indole-3- carbinole (I3C), has been shown to increase the rate at which estrogen is broken down through the liver's detoxification pathway by nearly 50 percent.

Cabbage has also been shown to be extremely effective in the treatment of peptic ulcers. The anti-ulcer component of cabbage was initially referred to as "vitamin U," but later identified as the amino acid glutamine, a critical factor in the growth and regeneration of the cells that line the gastrointestinal tract.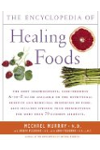 More About this Book
Encyclopedia of Healing Foods
From the bestselling authors of The Encyclopedia of Natural Medicine, the most comprehensive and practical guide available to the nutritional benefits and medicinal properties of virtually everything...
Continue Learning about Health Value Of Foods
A healthy diet is rich in foods with high nutritional value, providing your body with the vitamins, minerals and other food nutrients it needs to protect against disease and maintain a healthy weight. To identify healthy foods, it...
's important to read nutrition labels and know the source of your food. Products advertised as whole-grain, organic or fortified may not necessarily be healthy for you. Find out how to get the most health value from various fruits, nuts, spices, oils and vegetables -- and learn which types of red meat and processed foods to avoid -- with expert advice from Sharecare.
More