This nutrient-rich tuber is often classified as a yam, but that's actually a different vegetable. Sweet potatoes are fairly common in the typical supermarket, while true yams are imported and less widely available. Sweet potatoes have orange colored flesh and contain more than 100% of the daily value for vitamin A as beta-carotene -- more than any other fruit or vegetable. Their unique combination of potassium, fiber, and vitamins A and C make them especially heart healthy. Plus, they supply a hearty dose of antioxidants, helping to neutralize free-radical damage. The women of Okinawa, Japan (who also happen to be the world's longest living ladies) enjoy a purple sweet potato they call Imo every day for breakfast, lunch and dinner. Rich in beta-carotene and boasting 150% more antioxidants than blueberries, this easy-to-make treat can be simply incorporated into an American diet. And, if you can't find Imo specifically, our orange sweet potatoes pack a similarly healthful wallop.
This content originally appeared on
doctoroz.com
Sweet potatoes contain unique root storage proteins, which have been shown to exert significant antioxidant effects. In one study, these proteins had about one-third the antioxidant activity of glutathione-one of the body's most important internally produced antioxidants. The presence of these proteins, along with the high content of carotenes and vitamin C, makes sweet potatoes a valuable food for boosting antioxidants in your body. Unlike many other starchy vegetables, sweet potatoes are classified as an "anti-diabetic" food. Animal studies have shown that sweet potatoes actually help stabilize blood sugar levels and improve the response to the hormone insulin.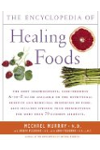 More About this Book
Encyclopedia of Healing Foods
From the bestselling authors of The Encyclopedia of Natural Medicine, the most comprehensive and practical guide available to the nutritional benefits and medicinal properties of virtually everything...
Continue Learning about Health Value Of Foods