Brazil nuts are perhaps the best source of selenium, a mineral needed for proper thyroid and immune function. Selenium may also protect against cancers of the prostate, liver and lungs. But keep in mind that just one Brazil nut provides 160% of the RDA for selenium, and anything above eight times the RDA could be harmful (leading, eventually, to selenosis, the symptoms of which include brittle hair and nails). How many Brazil nuts are in 1.5 oz? Ten, which provide 15 times the RDA , or twice the upper tolerable level of selenium.
In addition to health benefits consistent with other nuts, the Brazil nut gains special attention because of its high selenium content. Selenium has been shown to lower the risk of heart disease and cancer, and also plays a role in reducing allergies and inflammation.

A food's selenium content is determined by the amount of selenium found in the soil in which it is grown. Studies have indicated that nuts grown in the Manaus-Belem region of the Amazon basin are much higher in selenium content than nuts from the Acre-Rondonia region.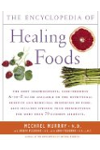 More About this Book
Encyclopedia of Healing Foods
From the bestselling authors of The Encyclopedia of Natural Medicine, the most comprehensive and practical guide available to the nutritional benefits and medicinal properties of virtually everything...
Continue Learning about Health Value Of Foods