One apple packs a punch of heart-healthy soluble fiber and vitamin C. Apples also have the ability to fill you up with fewer calories to keep your waistline slim.
This content originally appeared on doctoroz.com
According to USDA researchers, three apple varieties—Red Delicious, Granny Smith and Gala—rank in the top 20 food sources for antioxidants per serving, with Red Delicious in the No. 1 slot. When eaten with the skin, Red Delicious apples have about twice as much fiber and 45 percent more antioxidants as they do when peeled. The apple antioxidant, quercetin, may boost immunity and reduce the risk of Alzheimer's as well as lung, prostate and liver cancers. In fact, Cornell University researchers found that treating liver-cancer cells with 50mg of apple extract slowed their growth by 57 percent. Apples also contain the fiber pectin, which can help you feel fuller; a State University of New York at Buffalo study found that the amount of pectin in one apple reduced caloric intake in obese participants.
Apples contain a wide variety of phytochemicals that are strong antioxidants. Apples have been linked to reduced risk for cancers, heart disease, asthma and diabetes. Jonagold, red delicious and Granny Smith varieties are particularly rich in antioxidants. Apple peels contain more antioxidants than their flesh, so you can boost the health benefit and add color by leaving on the apple peels.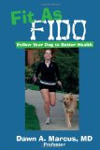 More About this Book
Fit As Fido: Follow Your Dog to Better Health
Let your dog teach you to live a happier, healthier, and more fulfilling life! Companionship with your pet can be used as a means and a motivator to increase your own physical and mental fitness....
Apples are nature's top fruit. The skin (particularly of red apples) is rich in beta-carotene, iron and pectin, a soluble fiber that eases bowel movements. The pulp of green apples is rich in vitamin C and fructose, which gives them their sweet-sour taste. Commercially grown apples are often waxed to retain moisture and extend shelf life; wash this off thoroughly with hot water.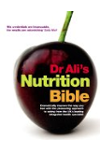 More About this Book
Dr Ali's Nutrition Bible
Each of us is unique, so it makes sense that no single diet will work for everyone. In the "Integrated Nutrition Bible", physician to the stars and best-selling author Dr. Ali offers a pioneering new...
Apples are rich in antioxidants, flavonoids and dietary fiber, explains Robin Miller, MD. Studies have shown eating an apple every day, as in the old adage, can decrease the mortality risk of vascular disease.
Apples are packed with nutrients that are good for your heart, says registered dietitian Sari Greaves. Learn more about the heart-boosting benefits of apples by watching this video.
Some of the health benefits of eating apples include the following:
Apples contain quercetin and other flavonoids that are both anti-inflammatory and antioxidants.
Apples are a great source of dietary fiber and vitamin C.
Apples can help reduce the risk of colorectal, mouth, pharynx, larynx and lung cancer.
Quick tip: Eat the peel! The peel contains the majority of the quercetin and one-third of the phytochemical properties.
Trinity Health is a Catholic health care organization that acts in accordance with the Catholic tradition and does not condone or support all practices covered in this site. In case of emergency call 911. This site is educational and not a substitute for professional medical advice, always seek the advice of a qualified healthcare provider.
The old saying "An apple a day keeps the doctor away" appears to be true. In an analysis of more than 85 studies, apple consumption was shown to be consistently associated with a reduced risk of heart disease, cancer, asthma and type 2 diabetes compared to other fruits and vegetables. In one of the studies, researchers in Finland followed more than 5,000 Finnish men and women for more than 20 years. Those who ate the most apples and other flavonoid-rich foods, such as onions and tea, were found to have a 20 percent lower risk of heart disease than those who ate the smallest amount of these foods.
In another study, apple consumption was linked to a lower risk for asthma. When nearly 1,500 adults in the U.K. were asked about their eating habits during the previous year, the investigators found that people who ate at least two apples each week had a 22 to 32 percent lower risk of developing asthma than those who ate less of this fruit. Researchers feel that much of apple' protective effects against heart disease and asthma is related to its high content of flavonoids like quercetin.
Apples are also very high in pectin, a soluble fiber that has been shown to exert several beneficial effects. Because it is a gel-forming fiber, pectin can lower cholesterol levels as well as improve the intestinal muscle's ability to push waste through the gastrointestinal tract. One medium (5-oz ) unpeeled apple provides 3 g of fiber, more than 10 percent of the daily fiber intake recommended by experts.
Even without its peel, a medium apple provides 2.7 g of fiber. Adding just one large apple (about 2/3 lb) to the daily diet has been shown to decrease serum cholesterol by 8 to 11 percent. Eating two large apples a day has lowered cholesterol levels by up to 16 percent. Apples' insoluble fiber and pectin both help promote bowel regularity, relieving both constipation and diarrhea. In fact, one well-known over-the-counter diarrhea remedy, Kaopectate, actually contains a form of pectin.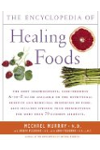 More About this Book
Encyclopedia of Healing Foods
From the bestselling authors of The Encyclopedia of Natural Medicine, the most comprehensive and practical guide available to the nutritional benefits and medicinal properties of virtually everything...
Continue Learning about Health Value Of Foods