Almonds are the top nut source of alpha-tocopherol, a potent form of vitamin E that's thought to protect the heart. Purdue University researchers found that overweight women who added 2 oz. of almonds to their daily diet for 10 weeks -- an extra 21,000 calories -- didn't gain weight! Instead, they effortlessly ate less of other foods, maintaining a calorie balance.
Almonds are an excellent source of vitamin E, an important antioxidant that acts as a blocker against heart disease. One ounce of almonds supplies almost 7.5 mg of vitamin E. About 24 almonds equals one ounce. The Harvard School of Public Health recommends eating 15 mg of vitamin E daily from foods to get heart protection. You can get this amount by eating just 2 ounces of almonds daily!

Other good sources of vitamin E are sunflowers, wheat germ, green vegetables, and tomato sauce. Almonds can also provide a tool for helping to lower cholesterol. Researchers at California State University measured cholesterol levels in people who were fed three diets: a no-almond diet, a low-almond diet (about 1 ounce daily) and a high-almond diet (about 2 ounces daily). Almond eaters had significantly lower levels of total cholesterol and low-density lipoprotein (LDL) cholesterol (that's the "bad" cholesterol), compared with people not eating almonds. Cholesterol levels dropped in high-almond eaters by 4.5 percent for total cholesterol and 7 percent for LDL cholesterol.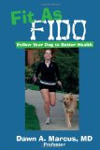 More About this Book
Fit As Fido: Follow Your Dog to Better Health
Let your dog teach you to live a happier, healthier, and more fulfilling life! Companionship with your pet can be used as a means and a motivator to increase your own physical and mental fitness....
Continue Learning about Health Value Of Foods