Adzuki beans are full of flavor -- and according to nutritional researcher and author Joel Fuhrman, MD, they can help you lose weight, too. In this video, he explains how beans can benefit the body.
If you want to broaden your bean repertoire, adzuki beans offer a host of nutritional benefits. Learn about the health benefits of adzuki beans by watching this video featuring me as Dr. Oz's guest.
In addition to supplying high levels of soluble fiber and protein, adzuki beans are packed with trace minerals. These trace minerals are utilized by the body as components of enzymes. For example, a 1/2 cup serving of adzuki beans provides almost 200 percent of the daily recommended intake for molybdenum, which is necessary for the production of an enzyme called sulfite oxidase, one of the most important enzymes in a liver detoxification pathway called sulfoxidation. Poor sulfoxidation is associated with neurodegenerative diseases, such as Parkinson's and Alzheimer's diseases, and with inflammatory conditions, including rheumatoid arthritis, delayed food sensitivity, multiple chemical sensitivities, and diet-responsive autism.

Adzuki beans are an excellent source of fiber and protein. In addition, they are rich in B vitamins, being an excellent source of folic acid and B3, a very good source of B1, and a good source of B6 and B2. Last, they provide high levels of the trace minerals molybdenum, copper, manganese, and zinc.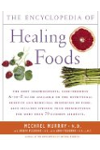 More About this Book
Encyclopedia of Healing Foods
From the bestselling authors of The Encyclopedia of Natural Medicine, the most comprehensive and practical guide available to the nutritional benefits and medicinal properties of virtually everything...
Continue Learning about Health Value Of Foods

A healthy diet is rich in foods with high nutritional value, providing your body with the vitamins, minerals and other food nutrients it needs to protect against disease and maintain a healthy weight. To identify healthy foods, it...
's important to read nutrition labels and know the source of your food. Products advertised as whole-grain, organic or fortified may not necessarily be healthy for you. Find out how to get the most health value from various fruits, nuts, spices, oils and vegetables -- and learn which types of red meat and processed foods to avoid -- with expert advice from Sharecare.
More