Strawberries are among nature's best source of vitamin C, a vitamin that promotes immunity, and helps your body use iron. This antioxidant vitamin may offer heart-healthy and cancer-protective benefits, too. Strawberries also deliver potassium and fiber.

There's more: strawberries contain plant substances (phytonutrients), including quercetin, ellagic acid, anthocyanins and kaempferol, that may help protect you from cancer and heart disease, among others.
The health benefits of strawberries are due primarily to their flavonoids. As with other berries, strawberries' anthocyanidins are their most powerful flavonoids. The vibrant red color of strawberries is due to the anthocyanidin known as pelargonidin. Strawberries' unique flavonoid content makes them a valuable protector against inflammation, cancer, and heart disease. The anti-inflammatory properties of strawberries include the ability of their flavonoids to lessen the activity of the enzyme cyclooxygenase, or COX. Non-steroidal anti-inflammatory drugs (NSAIDs), such as aspirin and ibuprofen, block pain by blocking this enzyme, which is linked to inflammatory conditions, such as rheumatoid arthritis, osteoarthritis, asthma, atherosclerosis, and cancer. Unlike drugs that are COX inhibitors, however, strawberries do not cause intestinal bleeding or heart disease. Strawberries also have strong anti-cancer effects.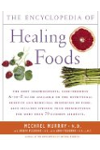 More About this Book
Encyclopedia of Healing Foods
From the bestselling authors of The Encyclopedia of Natural Medicine, the most comprehensive and practical guide available to the nutritional benefits and medicinal properties of virtually everything...
The exciting research that is being done on strawberry nutrition facts shows that the special nutritional components in strawberries might be able to stimulate metabolism and help suppress appetite. Strawberries can help control blood sugar and can also help you lose weight.
The facts on strawberry nutrition are impressive. There are 49 calories in one cup of strawberries. Strawberries are also loaded with vitamin C, 3 grams of fiber, and some calcium, magnesium, and potassium. The simple fact is that the little strawberry is big on nutrition.
Strawberries are rich sources of phenolic antioxidants that can help:
reverse inflammation
aid in weight loss
reduce the risk of chronic disease
When University of Illinois researchers looked at strawberry nutrition facts, they found that the most abundant antioxidants in strawberries are ellagic acid, as well as the flavonoids quercetin, kaempferol, anthocyanin and catechin. They pointed out a potential nutrition benefit that strawberry extracts have shown to inhibit cyclooxygenase (COX) enzymes in laboratory experiments. This would mean that strawberries could have the health benefit to help reduce inflammation and pain.
Research results indicate that strawberries can provide nutritional benefits to fight aging and disease:
In vitro laboratory experiments from Cornell University suggest that strawberry extracts may help inhibit the growth of liver cancer cells.
Studies with laboratory animals demonstrated benefits of strawberries for the aging brain.
Writing in the
Journal of Medicinal Food
, scientists from Clemson University examined the cancer fighting potential of various berries. They note: "Plants are proven sources of useful anti-tumor and chemopreventative compounds. Hence, identification of phytochemicals useful in dietary prevention and intervention of cancer is of paramount importance." Evaluating the results of their experiments the Clemson researchers concluded: "Juice from strawberry, blueberry, and raspberry fruit significantly inhibited mutagenesis."
Strawberry extracts have direct anti-inflammatory effects, inhibiting the activation of genes and enzymes that promote inflammation.
Most of this benefit is due to another group of phenolic antioxidants called anthocyanins, which help give ripe strawberries their lush red color. Anthocyanins decrease the risk of heart disease and stroke by protecting blood vessels from the effects of wear and tear.
Continue Learning about Health Value Of Foods