Chocolate can be good for you, reducing cholesterol levels, preventing memory loss and reducing the risk of stroke and heart attack. In this video, Robin Miller, MD, discusses the sweet treat.
Chocolate has moved through a cycle of historical acceptance, followed by a bizarre inquisition of that common cultural understanding. For the entire written record of chocolate consumption, it has been considered to be an exceptional health food. But then modern science came along and pronounced it to be not only a candy, but a candy whose cocoa butter contains the saturated fats that harm your heart. Thus, we hear, chocolate should not be recommended, and in fact, avoided. Fortunately, the research tide is starting to turn against this standard nutritional advice -- although it's important to note that we're talking about dark chocolate. Milk chocolate is typically high in trans fats and has little real cocoa content.
Some of dark chocolate's health benefits include:
For people with diabetes, insulin sensitivity is improved with high cocoa chocolate consumption.
For heart health, the consistent consumption of high polyphenol chocolate is associated with higher good cholesterol, lower bad cholesterol and improved blood flow.
For weight control, consistent but limited dark chocolate consumption is associated with lower weight in adults and teenagers.
Chocolate can protect the skin and prevent the DNA damage that can lead to tumor formation.
For athletes, high cocoa consumption can increase the time to exhaustion during a workout and reduce painful recovery time after activity.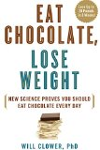 More About this Book
Eat Chocolate, Lose Weight: New Science Proves You Should Eat Chocolate Every Day
Did You Know that People Who Eat Chocolate Every Day Weigh Less than Those Who Don't?Eat Chocolate, Lose Weight is a game-changing look at the world's most surprising (and luscious) health food: chocolate.Based on new groundbreaking research and the amazing results of his clients, who have lost more than 100 pounds, nutritionist and neuroscientist Dr. Will Clower dispels the myth that chocolate is just a "junk food" by revealing how this succulent food contains healthy antioxidants that can actually help you lose weight.All you have to do is take the Chocolate Challenge: an 8-week plan that reveals which type of chocolate is the healthiest and exactly how you should be eating it to maximize all of its surprising health benefits, including:Weight loss of up to 20 pounds in 8 weeksReduced food cravings and appetitePrevention and reversal of diabetesImproved dental healthSignificant improvement in blood pressureEnhanced energy levels (up to 50%!)Increased skin moisture and UV protectionAnd more!With Eat Chocolate, Lose Weight, Dr. Clower is finally bringing his incredibly successful—and delicious—plan to chocolate lovers everywhere!
Continue Learning about Health Value Of Foods