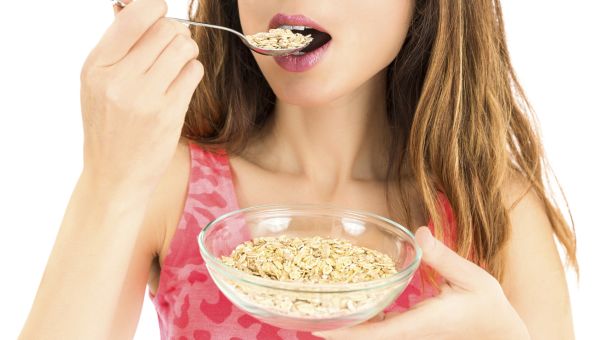 You may think oatmeal is bland and old fashioned, but to true believers it's flavorful and versatile. If you Google it, 12 million results appear and it has inspired a website called The Oatmeal Artist and a series of comics at TheOatmeal.com.
But if you're like most people, your experience with oatmeal is probably limited to granola, granola bars (often sugar-packed and calorie dense), cookies (more sugar) and instant cup-of-breakfast servings (you're not getting the whole grain nutrients of oats). So here's the latest news on what you're missing.
Opt for eating whole oats: Steel cut oatmeal (it's chopped up) takes the longest to digest, has the lowest glycemic index, and is the least processed. Rolled flakes are steamed, rolled, and toasted (they're still whole, but not quite as hearty as the steel cut). Both deliver soluble fiber—including beta-glucan—that lowers lousy LDL cholesterol, eases constipation, controls appetite, keeps good gut bacteria happy, and boosts your immune defense against infection.
Whole oats also serve up protein, several B vitamins (B1, B6, folate, niacin, and more), and minerals such as zinc and manganese. But the big news is that oats—and oats alone—contain an anti-inflammatory, anti-cancer compound called AVE (avenanthramide).
So start the day with a bowl of whole oats (no added sugar), fresh fruit and a dollop of nonfat, no-sugar-added Greek yogurt, then get oat-creative. Try oat and walnut non-meatballs, sprinkle crunchy oat groats on salads, and use oats for toppings on veggie casseroles. That's haute oat cuisine!
Medically reviewed in September 2018.