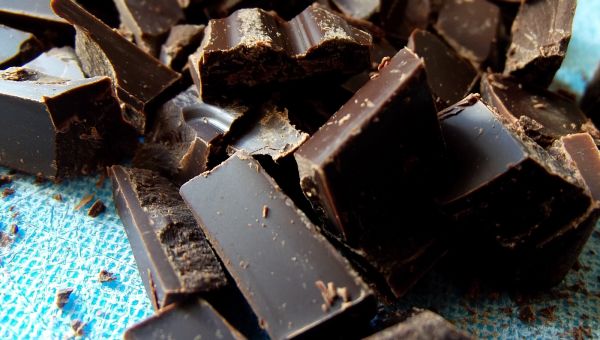 Tales From the Darkside: The Movie, (1990) featured the not-yet-so-famous Christian Slater, Steve Buscemi and Julianne Moore in a tale of a gut-wrenching dinner menu guaranteed to upset even the strongest constitution. But there's another Darkside that serves up a much tastier and healthier dish: 70 percent cacao dark chocolate.
Related: Slim Down for Summer: Eat More Chocolate!
We've said for quite a while that 70 percent cacao chocolate can provide you with a lot of disease-fighting nutrients, including the antioxidants catechin and epicatechin and that one ounce a day (yes, that's what we recommend) can help prevent stroke, protect the brain and keep blood vessels flexible. Now we know why! It's because your good gut bacteria, bifidobacterium and several strains of lactobacilli are crazy for chocolate and when they feast on it they convert its polyphenols into smaller molecules that permeate your gut delivering all its heart-friendly, brain-loving, artery-helping goodness. In other words, they make dark chocolate's benefits more available to your body.
So, if you want to gain all the health benefits of dark chocolate, here's a sweet tip. Eat plenty of PREbiotics -- the indigestible parts of food found in chicory, bananas, soybeans, 100 percent whole wheat, asparagus, leeks, onions and garlic that provide basic nutrition for healthy gut bacteria. Don't forget naturally fermented foods like miso, sauerkraut or yogurt that contain the bacteria themselves. And add a PRObiotic supplement containing the bifido- and lactobacilli. Then you're ready to do your duty and eat some extravagantly wonderful dark chocolate -- all in the name of good health, of course.