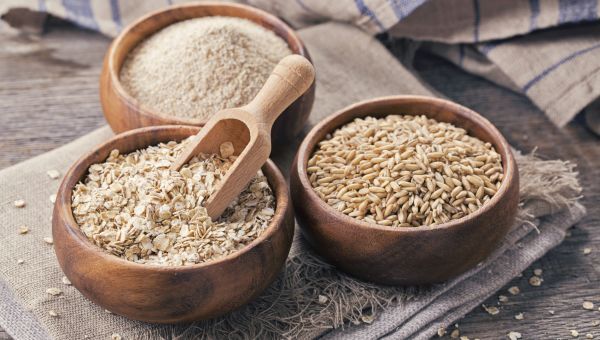 Americans spend a whopping $10.5 billion a year on gluten-free foods, including calorie bombs like zero-gluten cakes, pizza, fast-food fries and, new this year, gluten-free chocolate-chip Girl Scout cookies. But guess what? Not all gluten free foods are healthy. As food marketers cater to the craze with so many unhealthful products, you should tune in to the fact that there are real benefits from reading the labels and going gluten-free or easy on gluten. (Hint: You're going to want to dump all that processed, refined flour that shows up in cereals, breads, snacks, and frozen meals in favor of tasty, nutrition-packed alternative grains and grain-like foods.)
What started the gluten-free trend was the realization that at least 1.8 million Americans have celiac disease (it was underdiagnosed for a long time) -- an autoimmune disorder triggered by a mistaken immune system reaction to gluten proteins found in wheat, barely, and rye. If gluten is eaten, that reaction causes damage to the small intestine, malabsorption of nutrients, and can lead to osteoporosis, brain fog, and other complications.
Another 18 million of you may have a gluten or wheat sensitivity that triggers headaches, tiredness, inflammation, joint pain, and digestive discomfort. There's no test for this kind of gluten intolerance. But if you've given up gluten and feel better—then stick with it. And the rest of you?
Whether gluten makes you feel bad or not, you can benefit from trying these healthy gluten-free strategies:
Replace some grains with vegetables. Long before gluten-free foods hit the mainstream, people who avoided gluten-packed grains hit on a smart move: They ate sandwiches on slabs of lettuce instead of bread, served an extra veggie with dinner instead of rolls, and ladled pasta sauce over spaghetti squash or other vegetables, instead of noodles. Replacing refined grains (white bread, rolls, pasta, cereals) with veggies is a great way to get more fiber, vitamins, minerals, and cell-protecting phytochemicals--and cut calories at the same time. (We think this is one reason people who go gluten-free feel great and lose weight.)
Munch a new grain. You can hit your whole-grain quota (we recommend 3-4 servings a day) with delicious alternatives that deliver unique nutrition profiles. Tasty gluten-free grain alternatives include: