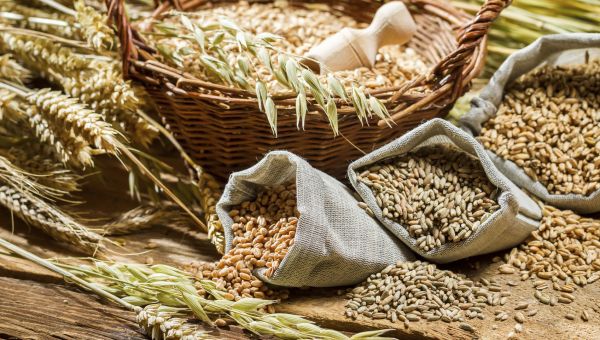 Go with the grain -- whole grain that is! That's a slogan everyone could live by, because whole grains are packed with health-protecting powers. You've heard us say (okay, preach) the grain gospel before. Now we're going to hand you seven ways to dish up all these whole grains, so you can fight off heart disease, impotence, colon cancer, vascular dementia and diabetes.
In a little less than a cup, most grains are loaded with essential polyphenols, fiber, more than 10% of your daily requirement for protein, plus various B vitamins, manganese, phosphorus, magnesium and more. And did we mention that you're in for a flavor-fest too? Here are our how-to-get-grain-on-your-table tips.
Add quinoa to a salad, along with blueberries, walnuts, and baby kale.
Cook up a homemade chicken soup with barley or brown rice.
What's breakfast without a bowl of steel cut oatmeal, almonds, raisins or cranberries, and steamed low-fat almond milk?
Sorghum? Amaranth? Try them as popcorn. That's right. Go to YouTube and check out some easy-to-follow instructions.
Buckwheat makes soba noodles -- so tasty in a miso broth, veggie soup or al dente with a bit of wasabi, soy and ginger.
Whole grain farro should be soaked overnight before cooking. Then use it to make risotto (Giada De Laurentiis has a great recipe) or it can be added to soups.
Millet -- it's not just for birdseed! Try cooking it for dinner, like rice or risotto, or serving for breakfast as a hot cereal.
Medically reviewed in October 2019.