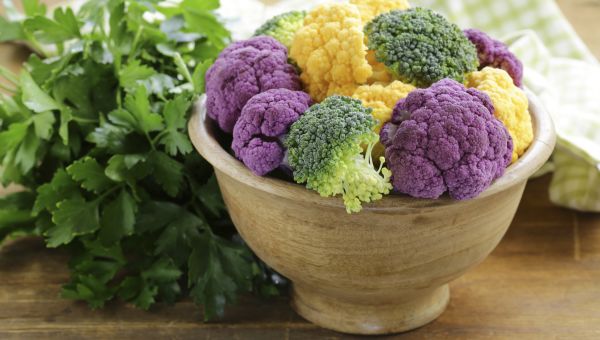 What do Cheddar, Purple Head, Graffiti, and White Cloud have in common? No, they're not the members of a punk band from the 80s' – they're varieties of cauliflower! This nubby member of the Brassica genus is often dismissed as a pale imitation of its heartier relatives like broccoli and cabbage. But in truth, this veggie delivers as much flavor, nutrition and eye appeal as its more popular relatives.
One cup is packed with 77% of your daily value of vitamin C, a dose of vitamin K, protein, fiber, B vitamins like thiamin, riboflavin and niacin, plus the minerals magnesium, phosphorus, potassium and manganese. In addition, cauliflower and other cruciferous veggies deliver sulfur-containing chemicals which have been shown in lab studies to prevent cancer of the bladder, breast, colon, liver, lung, stomach, and prostate. When combined with curcumin, the active ingredient in turmeric, this type of vegetable may lower blood pressure and improve kidney function. So what's stopping you from including some in tonight's meal? Here are some of our favorite ways to cook cauliflower:
Coat the whole head with olive oil and a dry rub made from paprika, red pepper flakes, cumin, rosemary, salt, black pepper and chili powder. Slow roast the cauliflower in a 275°F oven.
Squeeze fresh lemon and sprinkle olive oil on florets, then top with fresh garlic and lemon slices; cover and steam until tender over water that contains slices of fresh ginger.
Medically reviewed in August 2019.