Nuts are packed with fiber to maintain digestive health. If you're concerned about the high-calorie content of nuts, remember this: Your body can't digest nuts entirely, reducing their caloric value by 10-15% off of the total calories.
This content originally appeared on
doctoroz.com
Many people shy away from eating nuts because they believe that nuts are high in calories. Though nuts are high in calories, studies have shown that people who frequently consume nuts actually have less of a problem with obesity than those who do not. Frequent consumption of nuts, particularly of almonds and walnuts, is also protective against heart disease. In addition, a recent study has shown that consumption of nuts by women is inversely associated with a risk of Type 2 diabetes, independent of the known risk factors for Type 2 diabetes, including age, obesity, and a family history of diabetes, lack of physical activity, smoking, and other dietary factors.

The term "inversely associated" means that the higher the intake of nuts, the less likely it is that a woman will develop Type 2 diabetes. What is really amazing is that this relationship is seen even in women who are obese.

In addition to providing beneficial monounsaturated and polyunsaturated fats that improve insulin sensitivity, nuts are also rich in fiber and magnesium and have a low glycemic index. In several population-based studies, such food is associated with a reduced risk of Type 2 diabetes. Since nuts are very high in calories -- most have about 1,000 calories per cup -- moderation of intake is advisable in order to promote optimal body weight. It is also advisable to consume mostly raw or lightly roasted fresh nuts and seeds instead of commercially roasted and salted nuts and seeds.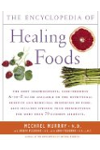 More About this Book
Encyclopedia of Healing Foods
From the bestselling authors of The Encyclopedia of Natural Medicine, the most comprehensive and practical guide available to the nutritional benefits and medicinal properties of virtually everything...
Yes, nuts are beneficial to your health. Nuts are considered a healthy food choice because they contain heart healthy fats and fiber. Nuts can also be used as a plant based protein replacing a higher saturated fat meat protein. They are a great tasting snack that will keep your weight, blood sugar and cholesterol in check. And keep you satisfied not feeling hungry. One point of caution is to monitor your portion size of any of the nuts as the calories can add up quickly.
A small handful of nuts daily may be a nutty way to manage your blood cholesterol levels.

Research suggests that nuts can help lower blood cholesterol levels and that eating 1.5 ounces per day of almonds, hazelnuts, peanuts, pecans, pistachio nuts, or walnuts along with a heart-healthy diet, may reduce your risk of heart disease. (An ounce of nuts = 25 almonds, 9 whole walnuts, or 48 pistachio nuts.)
Continue Learning about Health Value Of Foods