The health benefits of macadamia nuts are similar to those of other nuts that provide a high content of monounsaturated fat and arginine. Several studies conducted at the University of Hawaii have shown significant health benefits of macadamia nuts. For example, the latest study was conducted to assess the cholesterol-lowering potential of macadamia nuts. 17 men with elevated cholesterol levels were given macadamia nuts (40 to 90 g per day), equivalent to 15 percent energy intake, for four weeks. At the end of four weeks, their plasma total cholesterol and LDL cholesterol concentrations had decreased by 3.0 and 5.3 percent, respectively, and their HDL cholesterol levels had increased by 7.9 percent.

Macadamia nut oil also provides significant health benefits. While olive oil and canola oil are by far the most popular monounsaturated fats in use, macadamia nut oil is superior to cook with because of its lower level of polyunsaturated fat (3 percent for macadamia nut oil, versus 8 percent for olive oil, and 23 percent for canola oil). As a result, while olive oil and canola oil can form lipid peroxides at relatively low cooking temperatures, macadamia nut oil is stable at much higher temperatures (over twice more stable than olive oil and four times more stable than canola). Macadamia oil, like olive oil, is also very high in natural antioxidants. In fact, it contains more than 4.5 times the amount of vitamin E as olive oil.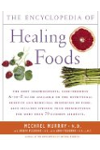 More About this Book
Encyclopedia of Healing Foods
From the bestselling authors of The Encyclopedia of Natural Medicine, the most comprehensive and practical guide available to the nutritional benefits and medicinal properties of virtually everything...
Continue Learning about Health Value Of Foods

A healthy diet is rich in foods with high nutritional value, providing your body with the vitamins, minerals and other food nutrients it needs to protect against disease and maintain a healthy weight. To identify healthy foods, it...
's important to read nutrition labels and know the source of your food. Products advertised as whole-grain, organic or fortified may not necessarily be healthy for you. Find out how to get the most health value from various fruits, nuts, spices, oils and vegetables -- and learn which types of red meat and processed foods to avoid -- with expert advice from Sharecare.
More