As a cabbage-family vegetable, turnips provide numerous health benefits. The cabbage family of vegetables contains more phytochemicals with demonstrable anti-cancer properties than any other vegetable family. Most of these compounds are glucosinolates. The compounds receiving the most attention are indole-3-carbinol, sulforaphane, di-indolmethane, and isothiocyanates. The anti-cancer effects of cabbage-family vegetables have been noted in population studies. Consistently, the higher the intake of cabbage-family vegetables, the lower the rates of cancer, particularly colon, prostate, lung, and breast cancer. The glucosinolates in cabbage work primarily by increasing antioxidant defense mechanisms, as well as improving the body's ability to detoxify and eliminate harmful chemicals and hormones. Specifically, indole-3- carbinole (I3C), has been shown to increase the rate at which estrogen is broken down through the liver's detoxification pathway by nearly 50 percent.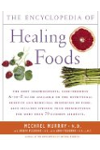 More About this Book
Encyclopedia of Healing Foods
From the bestselling authors of The Encyclopedia of Natural Medicine, the most comprehensive and practical guide available to the nutritional benefits and medicinal properties of virtually everything...
Continue Learning about Health Value Of Foods