Potatoes are the most widely consumed vegetable in the U.S., which wouldn't be so bad if they weren't primarily eaten deep-fried or mashed with added fat and sodium. Potatoes are naturally heart healthy, with all three of these varieties -- russet, red and white -- containing the same unique combination of potassium, vitamin B6, vitamin C and fiber.

A British study discovered that potatoes also contain compounds called kukoamines, which lower blood pressure. And a small Swedish study found that boiled and mashed potatoes were more satiating than French fries when served as breakfast after overnight fasting.

Potatoes also contain chlorogenic acid, a phytochemical that research shows may block the formation of carcinogenic nitrosamines and reduce the risk of liver and colon cancers. Korean scientists found that the potato peel can contain up to 20 times more chlorogenic acid than the pulp, while Indian researchers demonstrated that potato peel extract can reduce the chemically induced oxidation of human red blood cell membranes by up to 85% -- two good reasons to leave the skins on!
Spuds are high on the glycemic index -- that is, they give blood sugar a quick boost -- which is bad for diabetics but good in moderate doses for other people in need of an energy surge. Potatoes are also an excellent source of vitamin C. Heap on some salsa and top with a dollop of low-fat sour cream to enhance the effect. Spicy foods are stimulating, and hot peppers wake up more than your taste buds. Make it a sweet potato and you get a booster shot of antioxidants.

From The Mind-Beauty Connection: 9 Days to Less Stress, Gorgeous Skin, and a Whole New You by Amy Wechsler.
The health benefits of potatoes relate to their nutrient content, though they may possess other healing properties as well. As an interesting side note, boiled potato peel dressings may be an effective treatment for skin wounds in some third-world countries where modern skin graft procedures are not available. Preliminary studies conducted at a children's hospital in Bombay, India, using a dressing prepared from boiled potato peelings attached to standard gauze bandages, have demonstrated good therapeutic effect in promoting healing and keeping burns from becoming infected. Patients noted pain relief, while physicians noted reduced levels of bacterial contamination and faster healing with the use of boiled potato peel dressings.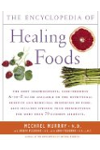 More About this Book
Encyclopedia of Healing Foods
From the bestselling authors of The Encyclopedia of Natural Medicine, the most comprehensive and practical guide available to the nutritional benefits and medicinal properties of virtually everything...
Continue Learning about Health Value Of Foods