Pecans are tops in terms of antioxidant activity, ranking highest among all nuts on the USDA 's ORAC scale. They also have up to 70% of the daily value of manganese, which supports bone health and wound healing. Pecans' healthy fats aid in the absorption of other fat-soluble nutrients, like vitamins A, D, E and K.
The health benefits of pecans are similar to those of other nuts that provide a high content of monounsaturated fat and arginine. Pecans' concentration of monounsaturated fat and beta-sito sterol are two potential reasons why, in a study recently conducted at New Mexico State University, pecans significantly lowered LDL cholesterol in healthy people with normal lipid levels.

19 people completed the study; 10 were randomly assigned to the pecan treatment group (seven women and three men ranging in age from 35 to 55) and nine to the control group (eight women and one man, ranging in age from 25 to 49). Both the pecan treatment group and the control group ate a self-selected diet, the only difference between them being that those in the pecan group consumed pecans daily, while those in the control group avoided all nuts.

Despite the fact that each day, the subjects in the pecan treatment group consumed about 31/2-oz of pecans, which delivered 459 calories and 44 g of fat, their body mass index and weight remained unchanged. Many people avoid nuts, thinking these high-fat foods will lead to weight gain, but this study clearly shows that the healthy fats in pecans do not translate into unhealthy excess fat stores in human beings. In another study conducted in 2001 at Loma Linda University, adding just a handful of pecans to a traditional low-fat, cholesterol lowering diet had a dramatic impact on the diet's effectiveness. Study participants - a total of 23 men and women between the ages of 25 and 55, with normal to mildly elevated cholesterol levels - were randomly placed on either the Step I diet, which is recommended by the American Heart Association as the first line of therapy for individuals with elevated cholesterol levels, or on a pecan-enriched version of the Step I diet. The pecan-enriched diet replaced 20 percent of the Step I diet's calories with pecans, which amounted to about a handful of pecans each day. After staying on their initially assigned diet for four weeks, subjects switched to the other diet.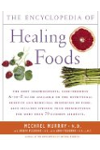 More About this Book
Encyclopedia of Healing Foods
From the bestselling authors of The Encyclopedia of Natural Medicine, the most comprehensive and practical guide available to the nutritional benefits and medicinal properties of virtually everything...
Continue Learning about Health Value Of Foods