Parsnips are a pale brown root vegetable, similar in shape to the carrot. Their combination of vitamin C, fiber and folate make them super heart healthy.
Parsnips provide similar nutritional value as potatoes, though parsnips are lower in calories and contain only about 50 percent of the protein and vitamin C content of potatoes. However, parsnips are higher in fiber than potatoes. Also, while both parsnips and potatoes provide significant amounts of a number of B vitamins, the parsnip is a much better source of folic acid. One cup of cooked parsnip supplies 23 percent of the RDI of folic acid, in comparison to only 5 percent of the RDI for this critical nutrient provided by a cup of cooked potato.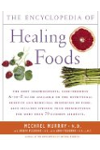 More About this Book
Encyclopedia of Healing Foods
From the bestselling authors of The Encyclopedia of Natural Medicine, the most comprehensive and practical guide available to the nutritional benefits and medicinal properties of virtually everything...
Tasty parsnips look just like white carrots, and they have been prized for centuries because their high fiber content fills you up fast. (Many medieval families used them during the Lenten season.) In addition to the fiber, parsnips are an excellent source of vitamin C and folic acid. In fact, one cup of cooked parsnips has 23% of the RDI of folic acid -- an equal serving of potatoes only has 5%.

Parsnips can be baked, boiled, sautéed, mashed, or steamed. I especially love to roast them and serve with some lean turkey or chicken.
Parsnips boast a wide variety of vitamins and minerals: one-half cup of cooked parsnips has 3 grams (g) of fiber and packs potassium, folate, vitamin C and manganese -- all for just 55 calories. With much dietary advice focusing on choosing dark, richly-colored produce (berries, kale and pumpkin, for example) don't overlook the nutrient benefits of this white root vegetable: parsnips, too, contain antioxidants and belong to the Apiaceae family, which has shown promising bioactivity in antibacterial, antifungal and anti-inflammatory areas.
This content orignally appeared on doctoroz.com.
Continue Learning about Health Value Of Foods